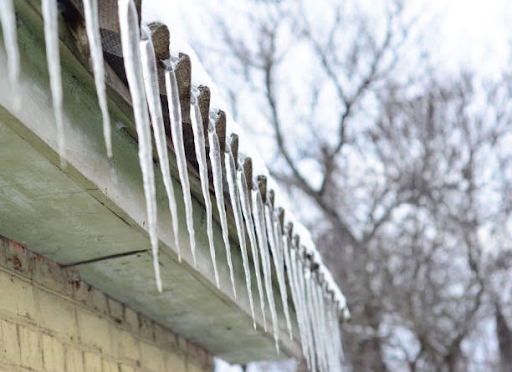 Ice dams! You may have heard of them and how damaging they can be, but is there something you can do to keep them from forming? There are tips to prevent ice dams, but first it is important to understand how they are formed.
Ice dams form when rising heat from your home melts the blanket of snow and ice from your roof from the bottom up, sending water trickling down your roof. When the water reaches the cold edges of the roof, it refreezes and forms a dam. This dam prevents drainage, and causes the excess water that melts to get trapped behind the dam. The water, having nowhere to runoff, will back up under the shingles and eventually leak into your home through the ceilings or windows.
It is never a good time to have an ice dam on your roof, but especially not during the holiday season when you want to enjoy your time with family and friends! This is why prevention is so important! Read more to learn helpful tips on how to prevent and remove ice dams.
PREVENTION TIPS:
FLASHING AROUND CHIMNEYS
Flashing is an important part of keeping heat from transferring out of your attic. By bridging the gap between your chimney and roof with a metal flashing, you will be providing your home with crucial insulation that will help prevent ice dams from forming. It is important to ensure your flashing is still intact, and isn't corroded from harsh weather. This can be done by having annual roof inspections conducted by a professional who can properly identify whether your chimney needs to be re-flashed.
MAKE SURE ICE & WATER SHIELD IS INTACT
An ice and water shield is an important layer of your roof used to protect your roof from ice and water damage. Its main purpose is to stop water from getting under your roofing material and seeping into your home. If your home experiences heavy snowfalls, making sure your roof is prepared is essential! Call a professional to inspect and assure your roof is properly protected from ice dams and harsh weather conditions.
CLEAR YOUR GUTTERS
When your gutters are filled with leaves, water is able to build up and freeze more easily. This enables ice dams to form by stopping the water from flowing off your roof and instead causing it to pool and refreeze in large chunks. Eventually, all of this weight will put a strain on your gutters and roof and cause extreme damages. Having your gutters cleaned before the temperature is freezing is one of the best ways to prevent ice dams. Check out our earlier blog for other helpful winter preparation tips for maintaining your roof.
SIGN UP FOR ABRAHAM ROOFING'S ANNUAL MAINTENANCE PROGRAM!
Ice dams can tear off gutters, loosen shingles, and cause water to back up and pour into your home. This is why it is important not to overlook the maintenance of your gutters and leaders during the winter season! Luckily, Abraham Roofing provides an Annual Gutter Maintenance Program that will not only save you money, but provide you with an easy solution for maintaining your gutters, leaders, and roof throughout the year! We strive to prepare and protect your home from any harsh weather conditions. It is never too early or too late to sign up! Our experienced professionals are ready to provide you with your free estimate today! Contact us at (800)-347-0913 or visit our website to learn more about our Annual Maintenance Program and other services we provide!

Follow Us on Facebook for More Updates